Early 20th Century Painted Ceramic Well Sculpture with Birds Stamped J. Massier
$675
About
Add color to a tabletop, mantel or shelf with this colorful, antique Majolica well sculpture. The intricate barbotine piece was sculpted in France, circa 1910, and features a well with a bucket and a barrel surrounded by six birds. The hand painted, bucolic scene has a soft pastel color palette that extends from the songbirds to the stones of the well. This ceramic piece is in excellent condition and is stamped Jerome Massier, Vallauris, France.
The Massier family of Vallauris is recognized for three members producing Majolica in the second half of the 19th century. In 1860, brothers Delphin (1836-1907) and Clement (1844-1917) Massier were joined by Cousin Jerome Massier (1850-1916) and began producing a style of ceramic bridging between traditional Victorian Majolica and Art Nouveau pottery. The Massiers mastered the copper oxide flambé technique for glazing, thereby introducing an intensely vibrant color palette including red, green and blue hues not previously seen with English Majolica.
Important in the Massier production were a series of large naturalistic modeled figural roosters, hens and other birds. Vases and wall pockets styled as orchids, intensely colored irises and sunflowers are among the most common Massier styles. A variety of humorous pieces bearing frogs and songbirds are popular among collectors. Most Massier Majolica bears an ink signature with both the first and last name of the producer and often includes 'Vallauris' along with other letters and symbols.
Measure: 9.5″ W x 12.75′ H.
Additional information
| | |
| --- | --- |
| Dimensions | 9.5" W x 9.5" D x 12.75" H |
| Period | Early 20th Century |
| SKU | 191-529 |
Print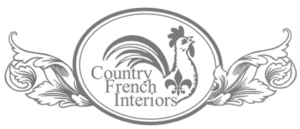 Country French Interiors, Inc.
1428 Slocum St.
Dallas, TX 75207
(214) 747-4700